Best Food & Delivery POS Systems
There's no denying that running a food business is tough. From managing inventory to keeping track of orders, there's a lot to stay on top of. And if you're still using a traditional cash register or paper-based system to run your operations, chances are you're not as efficient as you could be. That's where a food delivery POS system comes in. Let's first discuss what a POS system is and how it works.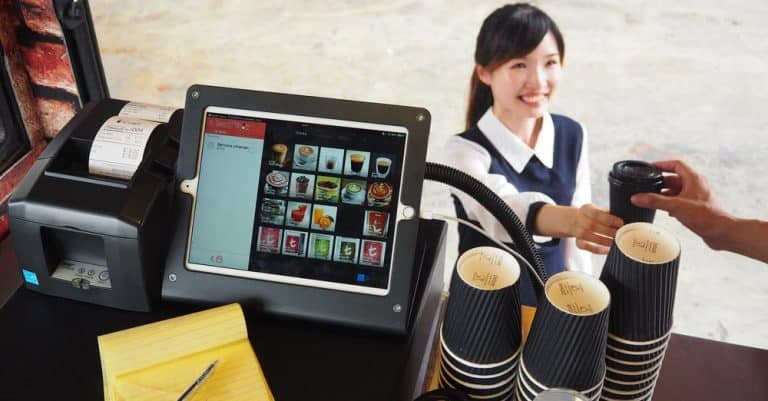 What is a POS System?
A POS system is a type of software that helps businesses keep track of their sales and inventory. It can also be used to process payments, manage customer data, and generate reports. POS systems are typically used in retail environments, but they can also be used in restaurants, hotels, and other businesses.
POS systems usually include a point-of-sale terminal, which is a computer that is used to input sales data and process payments. The terminal is often connected to a cash register, barcode scanner, receipt printer, and other devices.
Some POS systems also include features such as loyalty programs, gift cards, and customer management. These features can help businesses increase sales and improve customer service.
POS systems can be purchased from a variety of retailers or online. They range in price from a few hundred dollars to several thousand dollars, depending on the features and capabilities.
Some businesses use POS systems that are specifically designed for their industry, such as retail POS systems or restaurant POS systems. Others use general-purpose POS systems that can be customized for their business.
When choosing a POS system, it is important to consider the features and functionality that you need. You should also consider the ease of use and compatibility with your existing hardware and software.
A good POS system for food delivery can help you streamline your operations, save time and money, and make your customers happy. But with all the different options out there, how do you choose the right one for your business?
Choosing the Right POS System for Your Food Delivery Business
Here are some things to keep in mind when choosing a food delivery POS system:
Ease of use: A good POS system should be easy to use, whether you're a tech-savvy millennial or a Baby Boomer who's not so comfortable with technology. It should be intuitive and user-friendly, so you can train your staff quickly and get up and running smoothly.
Order management: A good food delivery POS system will make it easy for you to manage orders, whether they're coming in via phone, online, or in person. It should let you keep track of what's been ordered, what's been paid for, and what still needs to be delivered.
Customer management: A good POS system will also help you manage your customers' information. This includes their contact information, order history, and delivery preferences. This way, you can provide a better experience for your customers and build loyalty over time.
Reporting: A good POS system will give you the ability to generate reports that will help you track your progress and identify areas of improvement. For example, you might want to track your sales by hour, day, week, or month. Or you might want to see which menu items are selling the most (and least).
Flexibility: A good POS system should be flexible enough to grow with your business. As your business expands, your POS system should be able to handle more orders, more customers, and more data.
Integration: A good POS system should integrate with other systems that you use, such as your accounting software or your CRM. This way, you can avoid duplicate data entry and save time.
Support: A good POS system should come with excellent support. If you have any questions or problems, you should be able to reach someone who can help you quickly and easily.
Now that you know what to look for in a food delivery POS system, it's time to start shopping around. Talk to different vendors and compare features, prices, and support before making your final decision.
How to Find a POS System Provider for Your Food & Delivery Business
If you're in the food and delivery business, then you know how important it is to have a reliable POS system. After all, your POS system is what helps you keep track of orders, customers, and payments. Without a POS system, your business would be a lot less organized and efficient.
So, how do you go about finding a POS system provider for your food and delivery business? Here are a few tips:
Do some research online.
One of the best ways to find a reputable POS system provider is to do some research online. You can start by doing a simple Google search for "POS system providers." This should give you a good list of options to choose from.
Ask other businesses in your industry.
If you know any other businesses in your industry that use a POS system, then don't hesitate to ask them for recommendations. Chances are, they'll be able to point you in the right direction.
Read online reviews.
Another great way to find a reputable POS system provider is to read online reviews. This will give you an idea of what other customers have thought about the different providers out there.
Request quotes from multiple providers.
Once you've compiled a list of potential providers, the next step is to request quotes from each one. This will help you compare pricing and services so that you can choose the best option for your business.
Make your decision.
After you've done your research and compared your options, it's time to make a final decision. Choose the POS system provider that you think will best meet your needs and budget.
By following these tips, you should be able to find a POS system provider for your food and delivery business with ease.
If you are looking for a POS System provider Balanced Processing Partners may be able to help you find the right one for your food and delivery business.  We are the leading payment processing, consultant, and service provider.  We have many partners we work with that will get you the best system for your business needs and budget.  Please reach out to us to discuss further at (800) 354-6256 or via email at [email protected].